While participating in CreativeLive Portrait Startup I mentioned that we print in-house.
We are invested in providing best quality to our clients, and take pride in producing heirloom worthy wall portraits and canvases using archival quality pigments and media. The canvases can live up to two hundred years! This make my heart sing.
We've researched printing through and through. I'm happy to share our knowledge with you.
All of my packages include canvases, also I do print and display all of my fine art work as a gallery wrapped canvases. And that was a main reason why we end up getting equipment to produce all of our prints in our Studio.
This happened in early 2014, when canvas order for one of my clients came with a major dent. I had to talk to the print-house customer service about rushing shipping of replacement print and almost rescheduled final pickup appointment. This wasn't a first time something like that happen. Also I started displaying my fine art work at a number of venues and cost of canvas printing also became an issue.
Luckily my husband who often steps up to take care of many technical aspects of the business was prepared for the move and we started looking for a large format printer, after lengthy research and some shopping we came to own Canon ipf8300 printer. It prints on a roll media and can produce images up to 44″ wide, for the canvas prints it translates to 38″ wide max (loosing 6″ to wrap on 1.5″ stretchers) we indeed made one 38×60 canvas (middle piece in the image below) which was displayed few times and found it's home in our house master bedroom.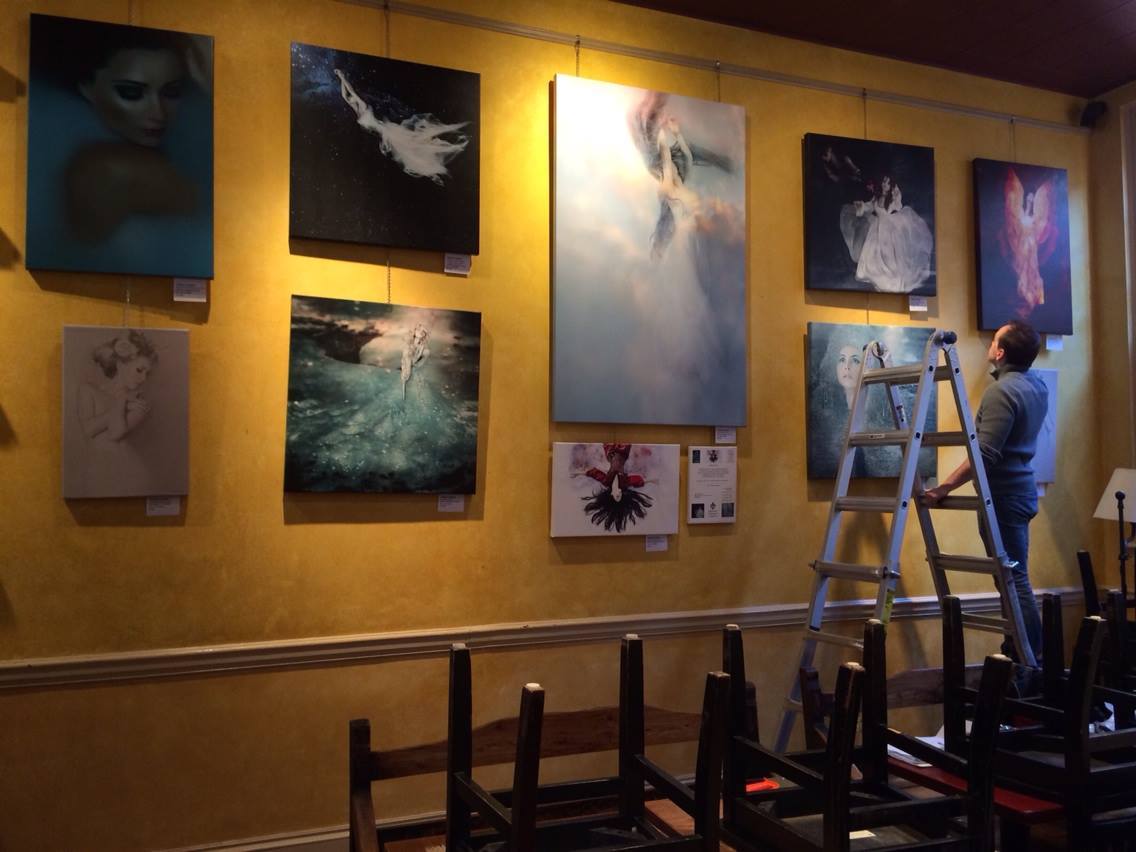 If you are looking to bring printing to your studio here's some information.

Technology
Inkjets
Generally there are 2 types of inject printing: dye based and pigment.
Historically dye-based inks had a wider color gamut and lower cost while its disadvantages were that it was water soluble (a drop of water could ruin a print) and that prints would fade faster.
Pigmented inks lasted longer and are more water-resistant, but had less color depth and are more expensive. Modern printing technology improved both dye and pigment ink technologies, dye prints would last longer if proper combination of ink/paper used, modern pigment inks provide wider color gamut.
Still pigment inks are marketed and used mostly by pro users and cheaper dye-based printers/ink are for consumers and enthusiasts.
Giclée
You may still find term Giclée used to describe some of inkjet printing, it's generally associated with inkjet printing using processes that are fade-resistant (archival). In a simplest form Giclée = high gamut pigment inkjet printing on archival papers. Since the term is misunderstood and misused by so many – my preference is to avoid it.
C-prints
Chromogenic color printing (C-print, Chemical bath prints, etc) is a technology used in most of the modern photo labs to mass print your orders. It uses array of Laser or LED lights in conjunction with some chemical process to produce final result. Problem with C-prints – fade resistance, they will not last. And even though technology is getting improved, c-type prints are still less fade resistant than pigment inkjet prints.
Here's a simple comparison of longevity provided prints are stored in archival way:
C-prints – 25-50 years
Dye inkjet – 50-75 years
Pigment inkjet – 100-200 years
Those numbers are obviously changing as technology changes.
Brands
There are 3 widely used brands of pro inkjet printers: Epson, Canon and HP.
Epson is better known and is dominating the market, Canon goes second and HP seemed to slowly fall of this wagon.
We were owners of HP B9180 printer few years ago, it was nice 13×19 pigment based machine capable of producing archival grade prints rated to last 200+ years, the longest lasting print technology at that time according to Whilhelm research. Unfortunately 13×19 was not big enough size to produce any substantially sized canvas prints (our packages include 16×24 and 24×36 canvas, while many of my fine-art prints are 30×30).
Epson seemed to be an easy choice, however some research showed there a trouble in that paradise: on paper Epson machines are clear winners, however there were major issues with print head clogging. It was almost as if Epson large format printers were made for constant every day printing, the owner who prints sporadically would risk to run into clogging issue sooner or later. To battle clogging issues some owners came up with clever techniques, they will have printer with computer station run all the time and computer will periodically send a print job to the printer to move ink through all of the nozzles to prevent clogging. Some of the owners got so frustrated that they went to pretty extreme measures as this video shows:
Research on HP printers showed good result, HP Z series of printers was the easiest to maintain, for example it has 6 replaceable print heads each serving 2 colors, each costing roughly $60 at the time of this writing (the full set of print heads will cost just $360). For comparison Canon IPF printers have 2 print-heads for ~$450 each ($900 for full set), Epson printheads are not replaceable/serviceable by consumer – each time there's issue owner suppose to call their customer service ( more than $1000 to replace printheads).
HP Vivera pigments ink have best longevity record out of 3 manufacturers (according to Wilhelm Imaging Research), Canon Lucia pigment inks comes second with Epson UltraChrome pigment inks – last.
Both HP Z and Canon ImagePROGRAF have 12 ink color systems, while Epson Stylus Pro has 9 and 11 Ink color systems (11 inks in the higher end models 4800 and 7900/9900).
So why did we not go with HP, especially since we had prior experience with HP printers (B9180), there were few factors:
According to the sentiment on all of the printing forums – HP was acting like it was pulling out of this business
Availability of papers/ICC profiles and in general paper manufacturers support was pretty weak for HP
Our Choice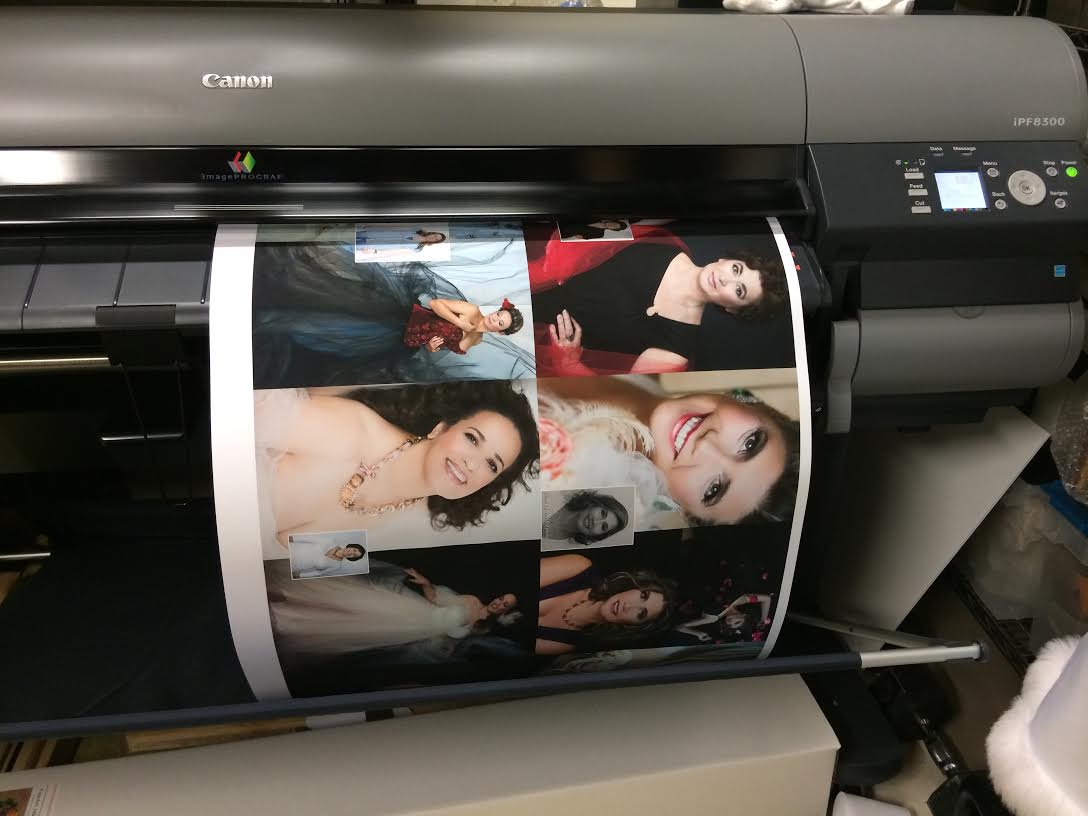 We went with Canon IPF8300 (succeed now by ipf8400).
I can report that we are quite happy with the machine, it's going strong for over a year now. It uses 2 printheads and 12 color ink tanks, it'll accept tanks of 2 different sizes – 330ml or 700ml, the full set of 330ml ink tank equates to almost 4 liters of ink – more than a gallon and costs quite a bit $2000+ and will last for a while.
I realize that going with large format printer is not something that many people will opt to. Luckily Canon just released 3 new pro printers – PIXMA Pro-100, Pro-10 and Pro-1. PIXMA PRO-100 is the cheapest one of the lineup and the only Dye-based of them, Canon claims that it improved dye ink technology to the point that those prints will last to 100 years if printed on certified Canon paper, it's early to say how those claims will hold, for now it's safe to assume that if you want for your prints to last – go with Pigment inks. The difference between PRO-10 and PRO-1 is in number of INK tanks – PRO-1 is 12 color and PRO-10 uses 10. I didn't read any comparison reviews, but if I had to make a guess the major difference between 2 will be in the quality of black and white printing, since 2 extra tanks are Dark Grey and Light Grey. I do not know how the color gamut of those new printers will compare to imagePROGRAF series printers, most likely will be similar.
Also Epson has pretty strong play in that segment there are Epson Stylus Pro 3880 and 4880, both are 17 inch wide (comparing to 13 inch for Canon PIXMA PRO), both use pigment inks and are very popular printers with a lot of happy users, I'm not aware of any major clogging issues with those models.

Cost of Printing
We print on the veriety of media with the majority of prints done on Breathing Color Vibrance Metallic photo paper. Of all the papers we tried this one gives me the closest match to a Kodak ENDURA Premier Metallic Paper C-type prints. This paper is on expensive side costing roughly $1 per sq.ft. Canon IPF printers come with sophisticated accounting features and I can pull out cost history for every print job that we ever ran, my 8×12 Mettalic prints cost me roughly $1.10 taking in account all the extra paper that is wasted due to inability to fit most of the jobs to the paper sheet without any blank spaces. If I could magically print without any paper waste the cost per 8×12 would be closer to $0.80. If I'm to switch to a cheaper media like Epson Ultra Premium Luster which costs only $0.44 per sq.ft, the cost on 8×12 print will be closer to $0.60.
Even though the initial cost to buy printer like PRO-1 will be much less than IPF printer, the cost of prints should be expected to be slightly higher: full set of inks for PRO-1 is 12 x 36ml = 432ml and it'll cost $360. So ink cost per 1ml is $0.83 with PRO-1 vs. $0.52 for 330ml tanks on IPF printer and $0.39 for 700ml tanks on IPF printer.
Here's a decent document with some cost comparison for the prints on variety of media IPF8300 Cost Analysis

Finishing touches
No mater if you use large format printer or 13×19 – most images still have to be cut out or trimmed. You can use metal ruler and utility knife for trimming or simply do it with the scissors. However better results can be achieved using trimmer, I use Dahle 508. Dahle makes more expensive Professional series of trimmers, I can expect they are of a better build quality and can produce better output.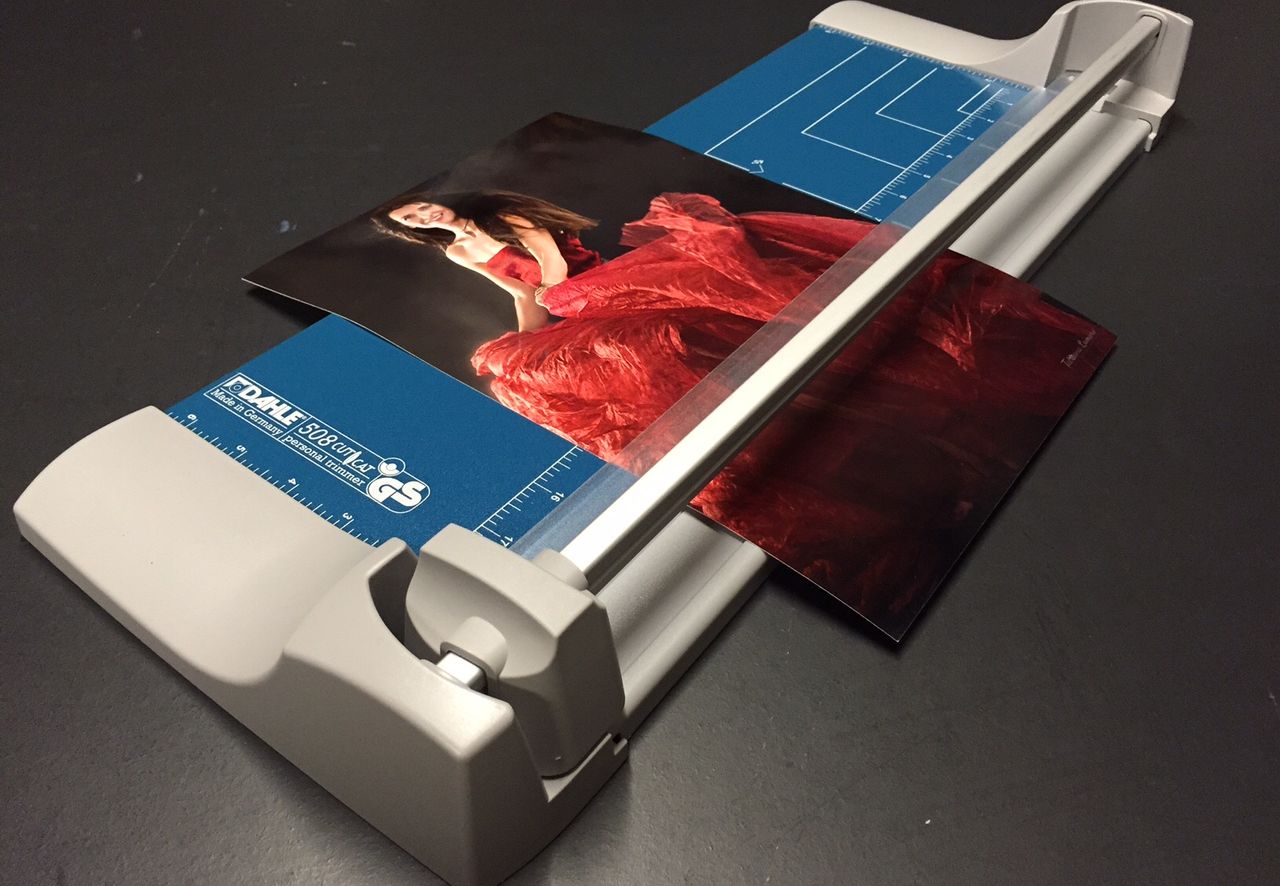 Color correction
Once all those investments in printing technology done – it makes sense to complete the package with color calibration equipment. When we just got our printer and started experimenting we quickly realized that color reproduction between end result and what my monitor was showing was quite far off. This discovery lead to acquisition of spectrophotometer that would calibrate both printers and monitors, we went with ColorMunki Photo. Unfortunately this device is not cheap, we got ours new from eBay at a good discount.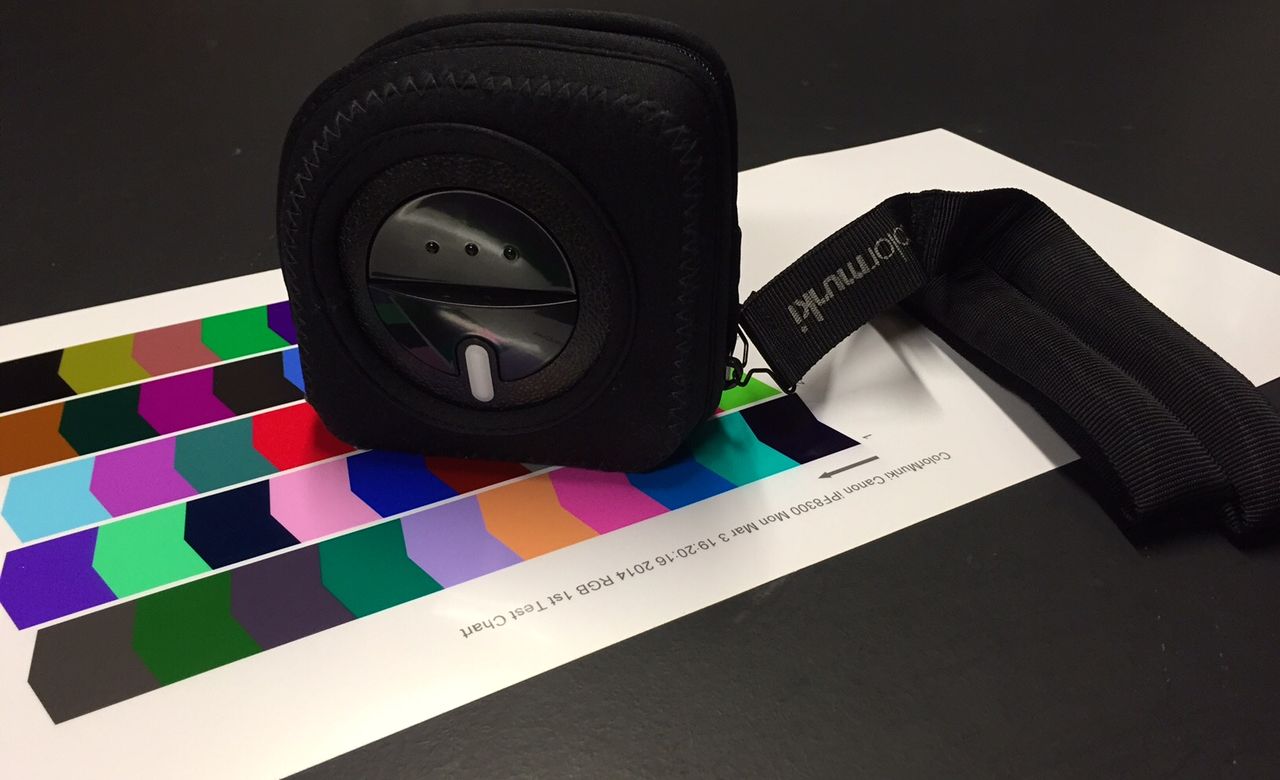 Shortly after this I came to a conclusion that my monitor have to be upgraded as well, good old 30″ DELL 3007wfp was lacking controls to get proper calibration, and we had to invest in a good quality PLS screen (yes I'm not a MAC user, all of our computers run Windows)
Nowadays our process includes recalibration of printer, papers and monitors every few month.

Printing Software
To drive large format printer efficiently we have to use software that would manage layout of many images on a roll of paper or canvas. Raster Image Processor (RIP) is a type of software that would do this job. There are many packages out there, we found good luck with inexpensive software from ddisoftware.com: Qimage Ultimate